Ootaniso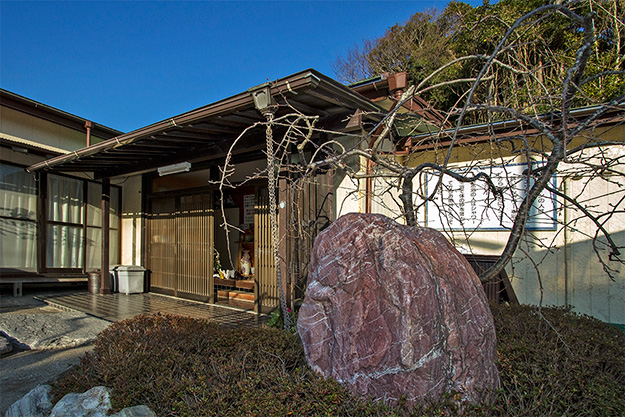 Location / Contact

Location ZIP299-4502 163-1 Nakahara, Misaki-shi, Chiba MAP
tel 0470-87-4792
fax 0470-87-8486
access

10 by Car from JR Sotobo Line Kazusa Ichinomiya Station
20 by Car from Kujukuri Toll Road Ichinomiya Tollgate
40 by Car from Ken-O Expressway Mobara Kita IC
35 by Car from Ken-O Expressway Ichihara Tsurumai IC
Basic information

check-in:13:00〜(Up to 21:00)
check-out:10:00
Pick-up:available
Parking:8 units
Parking Fee:free
hotel fee

Adult:8,000yen(stay overnight without meals 4,000yen)
Child:6,000yen(stay overnight without meals 3,000yen)
food

Type of meal:Japanese food
Allergy support:no
Travel amenities

Face towel
shampoo
rinse
Body Soap
Soap
toothbrush
Hairdryer
yukata
Recommended

We look forward to the hospitality of the gentle heart and the fragrance of the beach
Oyaso is located at the entrance of Taito Fishing Port. Please have fresh fish. In addition, climbing the high kink course behind the guest house overlooks the Pacific Ocean
You can see the wonderful scenery.
Room information

room1
type
size of the room
Number of people
Japanese-style room
10 tatami
6 number of people
(minimum 2 number of people)

TV:no
toilet:a shared bathroom
bathroom:a shared bathroom
Air conditioner:no
bed:yes
smoking:No smoking

room1
type
size of the room
Number of people
Japanese-style room
10 tatami
6 number of people
(minimum 2 number of people)

TV:no
toilet:a shared bathroom
bathroom:a shared bathroom
Air conditioner:no
bed:yes
smoking:No smoking

room2
type
size of the room
Number of people
Japanese-style room
10 tatami
6 number of people
(minimum 1 number of people)

TV:no
toilet:a shared bathroom
bathroom:a shared bathroom
Air conditioner:no
bed:yes
smoking:No smoking

room2
type
size of the room
Number of people
Japanese-style room
10 tatami
6 number of people
(minimum 1 number of people)

TV:no
toilet:a shared bathroom
bathroom:a shared bathroom
Air conditioner:no
bed:yes
smoking:No smoking

room3
type
size of the room
Number of people
Japanese-style room
10 tatami
6 number of people
(minimum 2 number of people)

TV:no
toilet:a shared bathroom
bathroom:a shared bathroom
Air conditioner:no
bed:yes
smoking:No smoking

room3
type
size of the room
Number of people
Japanese-style room
10 tatami
6 number of people
(minimum 2 number of people)

TV:no
toilet:a shared bathroom
bathroom:a shared bathroom
Air conditioner:no
bed:yes
smoking:No smoking

room5
type
size of the room
Number of people
Japanese-style room
4.5 tatami
2 number of people
(minimum 1 number of people)

TV:no
toilet:a shared bathroom
bathroom:a shared bathroom
Air conditioner:no
bed:yes
smoking:No smoking

room5
type
size of the room
Number of people
Japanese-style room
4.5 tatami
2 number of people
(minimum 1 number of people)

TV:no
toilet:a shared bathroom
bathroom:a shared bathroom
Air conditioner:no
bed:yes
smoking:No smoking

room6
type
size of the room
Number of people
Japanese-style room
6 tatami
3 number of people
(minimum 2 number of people)

TV:no
toilet:a shared bathroom
bathroom:a shared bathroom
Air conditioner:no
bed:yes
smoking:No smoking

room6
type
size of the room
Number of people
Japanese-style room
6 tatami
3 number of people
(minimum 2 number of people)

TV:no
toilet:a shared bathroom
bathroom:a shared bathroom
Air conditioner:no
bed:yes
smoking:No smoking

room7
type
size of the room
Number of people
Japanese-style room
6 tatami
4 number of people
(minimum 2 number of people)

TV:no
toilet:a shared bathroom
bathroom:a shared bathroom
Air conditioner:no
bed:yes
smoking:Smoking allowed

room7
type
size of the room
Number of people
Japanese-style room
6 tatami
4 number of people
(minimum 2 number of people)

TV:no
toilet:a shared bathroom
bathroom:a shared bathroom
Air conditioner:no
bed:yes
smoking:Smoking allowed

room8
type
size of the room
Number of people
Japanese-style room
6 tatami
2 number of people
(minimum 1 number of people)

TV:no
toilet:a shared bathroom
bathroom:a shared bathroom
Air conditioner:no
bed:yes
smoking:Smoking allowed

room8
type
size of the room
Number of people
Japanese-style room
6 tatami
2 number of people
(minimum 1 number of people)

TV:no
toilet:a shared bathroom
bathroom:a shared bathroom
Air conditioner:no
bed:yes
smoking:Smoking allowed
Remarks

There is communication karaoke facilities
We can take a bath for 24 hours.
Cancellation on the day will be charged a cancellation fee
※ Please contact us for infant rates